The NDG Cisco CyberOps Associate Labs service was developed by the Network Development Group (NDG) to take advantage of the improved flexibility and course management capabilities in the Cisco Networking Academy® learning environment.
Accessing the Labs
1. How do I get access to the NDG CyberOps Associate Labs?
If your organization is participating in the Cisco Networking Academy, you can use this course for Instructor-Led Training (ILT). To learn more about NDG CyberOps Associate Labs as a service and how to add the labs to the Cisco CyberOps Associate course modules, please visit the NDG CyberOps Labs service FAQs.
2. What are the ways I can order?
Access may be purchased individually by the learners of the course directly, or institutions/bookstores may order access codes in bulk on their behalf.
3. How do learners gain access to the labs?
After being enrolled in the class by an instructor, learners will access the course. The first time they attempt to open a lab, they will be prompted to purchase access or provide an access code.
a)

The learner opens a lab for the first time.

b) The learner is prompted to sign up for an NDG Online Portal account, if they have not done so previously.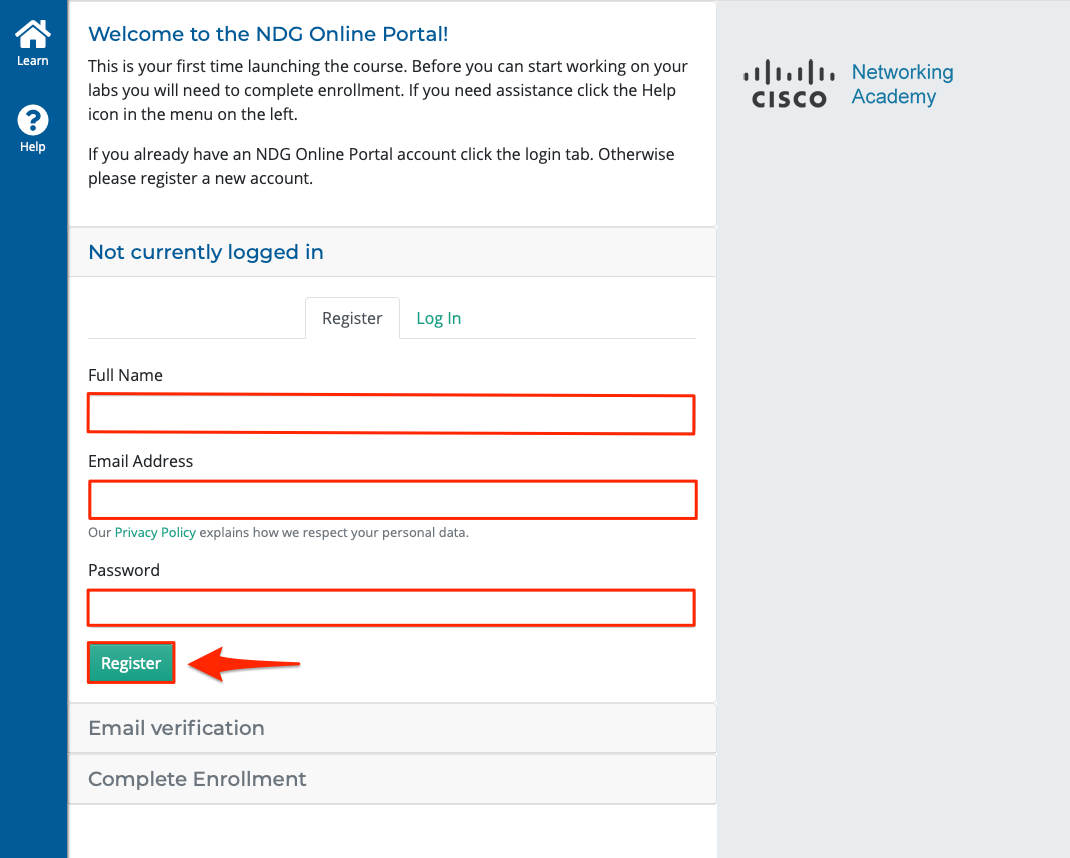 c) The learner verifies their email address.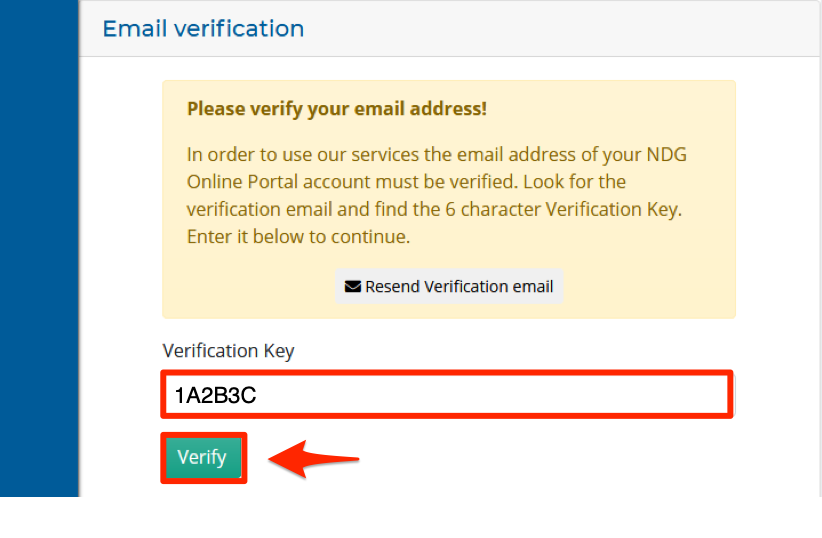 d) The learner completes the enrollment process.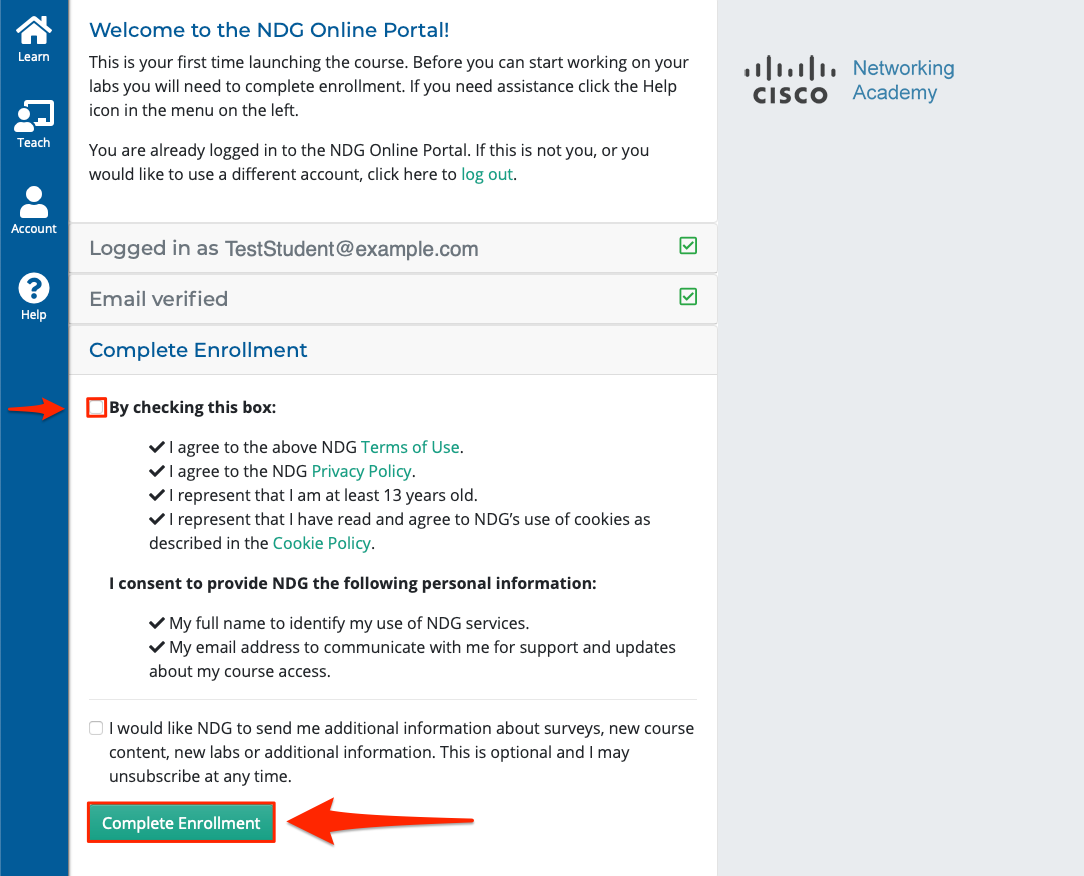 e) The learner is prompted to purchase access or provide an access code.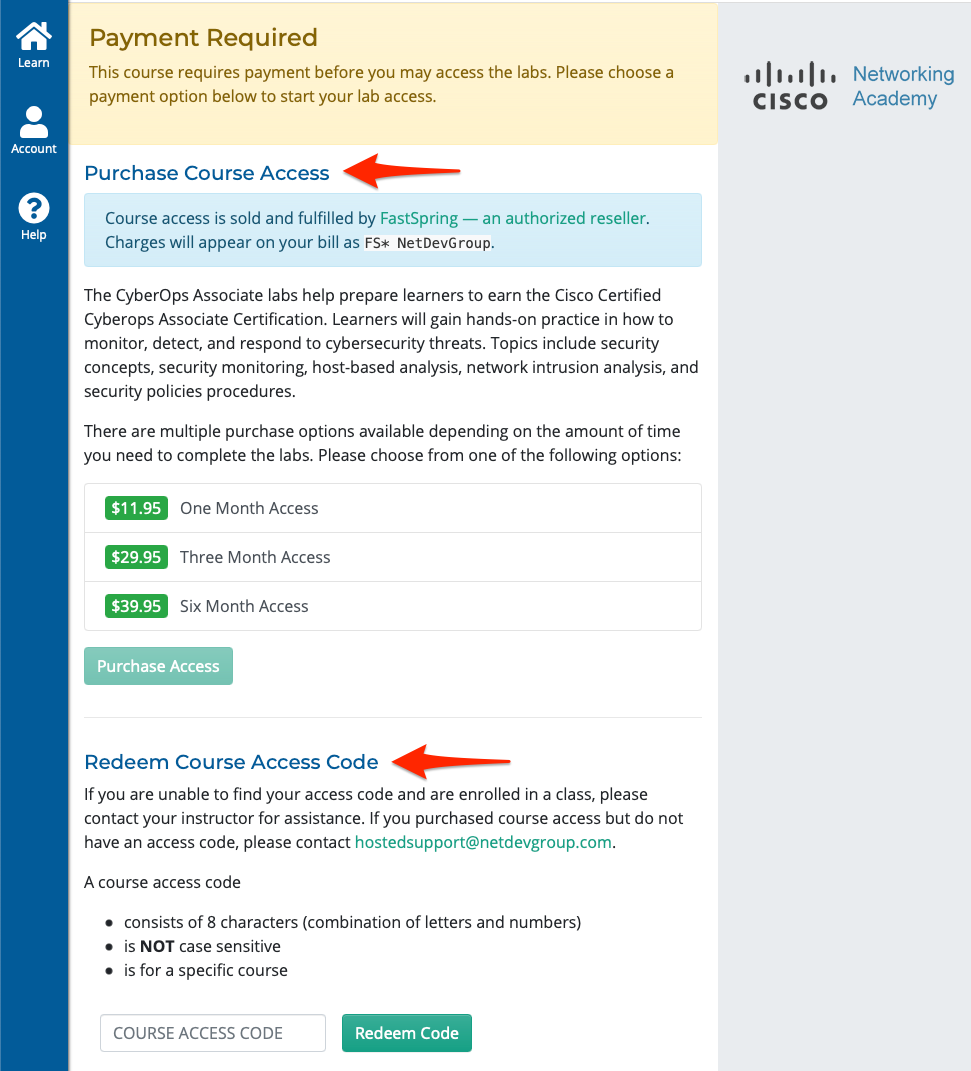 Note: A learner enrollment guide for the NDG CyberOps labs is available
here
.
4

.

How do learners pay for lab access directly?
Once prompted for payment, learners have the option of purchasing directly.
5. How do we purchase access codes on behalf of learners?
Access codes may be purchased in bulk to be distributed to students. Access codes are sold through our reseller FastSpring, and you can find the ordering pages for access codes here:
CyberOps Associate: https://sites.fastspring.com/netdevgroup/product/cyberops-assoc-cisco?option=po
Note that access codes are only sold for three or six month access. One month access is only available when students are purchasing access directly.
Additional information regarding bulk purchases can be found here:
https://support.netdevgroup.com/hc/en-us/articles/360008063513

6. How do learners use access codes?
Once completing the process outlined in Item #3, learners are prompted to purchase or enter an access code. They would enter the access code provided to them here.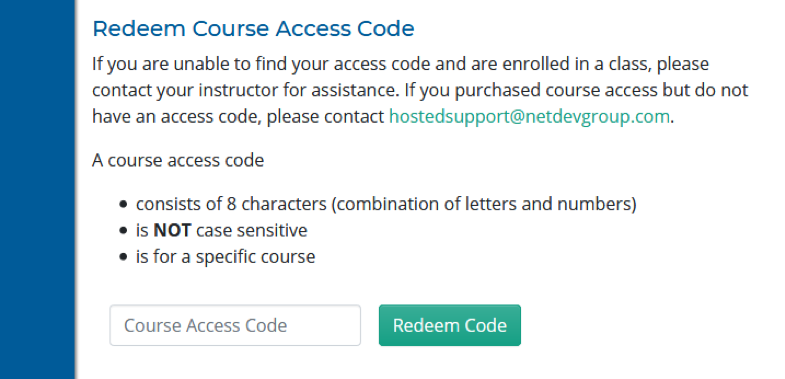 Frequently Asked Questions
Access Codes
1. How long is the course access?
The NetAcad course start and end dates are controlled by the institution. The NDG CyberOps Associate labs are designed to provide three levels of access time; 1-month, 3-months, or 6-months. Access to the labs is based on the access time purchased by an individual. Although the course itself may have a duration of six months or more, access to the labs is based on access time purchased through NDG and not on the duration of the course in NetAcad. Codes expire after one year if not claimed.
If your course has expired in NetAcad but your NDG lab access period is still valid, you can access your labs at portal.netdevgroup.com.
2. What is the refund policy?
You can find the support documentation and policy for refunds here:
https://support.netdevgroup.com/hc/en-us/articles/1500002946162

3. How can instructors receive access to the labs?
4. Are there ISBN numbers for the labs?
ISBN numbers are not necessary to order course content but are provided for the convenience of bookstores and inventory purposes. The ISBN for access codes are as follows:

NDG Cisco CyberOps Associate 978-1-946780-24-9
Payment Processing
5. How are payments processed?
All payments for the NDG Online services are handled by our payment processor FastSpring. Purchasers having difficulty with payment may wish to contact FastSpring directly by going to their contact page here:
http://www.fastspring.com/contact-us
6. When do we receive the access codes?
Access codes are normally distributed upon confirmation of payment completion. In certain cases, NDG may grant NET45 terms and deliver codes before payment completion. Please contact NDG Support for further information.
7. How to I obtain a W-9?
FastSpring is the vendor of record for the sale. You can find a copy of the completed W-9 on FastSpring's Request for Taxpayer (W-9) form, which can be found here:
http://www.fastspring.com/w9.pdf
8. Is VAT information required for EU customers?
FastSpring is a United States-based seller of digital goods. EU laws require FastSpring to charge VAT Tax (sales tax) on purchases of electronically delivered products for buyers based in the European Union. FastSpring is required to charge VAT Tax at the VAT rate of the buyer's country. For more information, please refer to:
http://www.fastspring.com/vat
Other Questions
9. Who should I contact if I have questions about these labs that are not explained in this document?
Questions specific to the lab content and ordering process should be directed to Network Development Group at hostednetlab@netdevgroup.com. Please take a few minutes to review the NDG website, netdevgroup.com, the course materials, and this FAQ document before emailing the NDG staff. You can also find the support documentation for the NDG Portal and NDG Online Lab service here:

https://ndg.tech/nnAAad