LMS-Ready Content
A selection of NDG Online Labs and Courses support access through your school's Learning Management System (LMS). Supported LMS options include Canvas, Blackboard and Moodle. Learners' outcomes and grades will be posted to your LMS. NDG Online uses Learning Tools Interoperability (LTI), a standard protocol developed by the IMS Global Learning Consortium for integrating any LMS with any learning application. LTI is essentially plug-and-play; instructors and administrators integrate access to the NDG Online Lab Service from their LMS using the LMS access key and common cartridge provided by NDG.
Requirements to Use
In order to qualify for access to the LMS-Ready Content, you must be an instructor at a degree granting and government accredited academic institution or a member of one of our partner academic programs such as the VMware IT Academy or Palo Alto Networks Cybersecurity Academy.
Signing Up For Access
To gain access, you would first need to sign up for an NDG Portal account and verify your instructor email address provided by your academic institution. Support documentation for signing up can be found here:
https://support.netdevgroup.com/hc/en-us/articles/360009147673
Once your account is verified, navigate to the LMS Teaching page here:
https://portal.netdevgroup.com/teach/
You will then be prompted to find and join your institution (if it already exists in our system) or create a new one (if your institution has not been previously approved).

You will then be asked a series of questions regarding your program membership and verification of your status as an academic institution.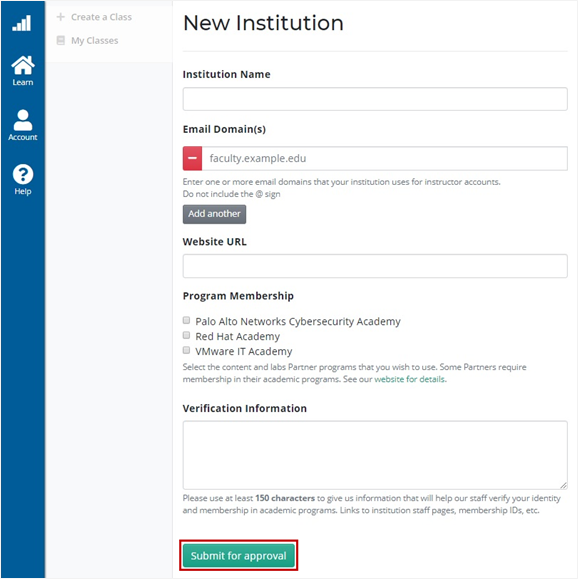 Once the form is submitted, a ticket in our customer support system will be created and our support team will verify the information you have provided. You will receive an emailed response from our support team (typically within two business days) that will contain the additional information you will need to proceed with creating a class in your LMS.
Getting Help
If you have any questions regarding the LMS-Ready content or any other NDG Online services, please do not hesitate to contact our support team. Our support team can be reached via the "Help" button in the NDG Portal, the "Help" button found in our support website here, or directly at:
Thank you for your interest in NDG!