NDG Online Lab Enrollment
A quick look at what is covered in this guide:
Register in NDG Online Portal
Verify Email Address
Purchase Labs
Help and Resources
Register in the NDG Online Portal
To enroll in the NDG Labs your instructor will either provide you with an enrollment URL or a link will be provided within your Learner Management System (LMS).
Important: All classes taught through an academic institution should provide students with an enrollment URL or instructions on how to enroll via an LMS. Students should never be directed to the NDG website to purchase lab access, and some partner content (such as the VMware IT Academy labs) cannot be purchased via the NDG website by students.
If you have not done so before, the NDG Portal will prompt you to register with a Full Name, Email Address, and a Password. This information will be saved once you click on the Register button, so if for any reason you leave the page during the enrollment process, progress will be saved and you can continue enrolling from where you left off by going back to the NDG Portal.

After registering, you will be able to view your NDG Online Portal homepage by clicking on the Learn tab located on the left-hand side of the page.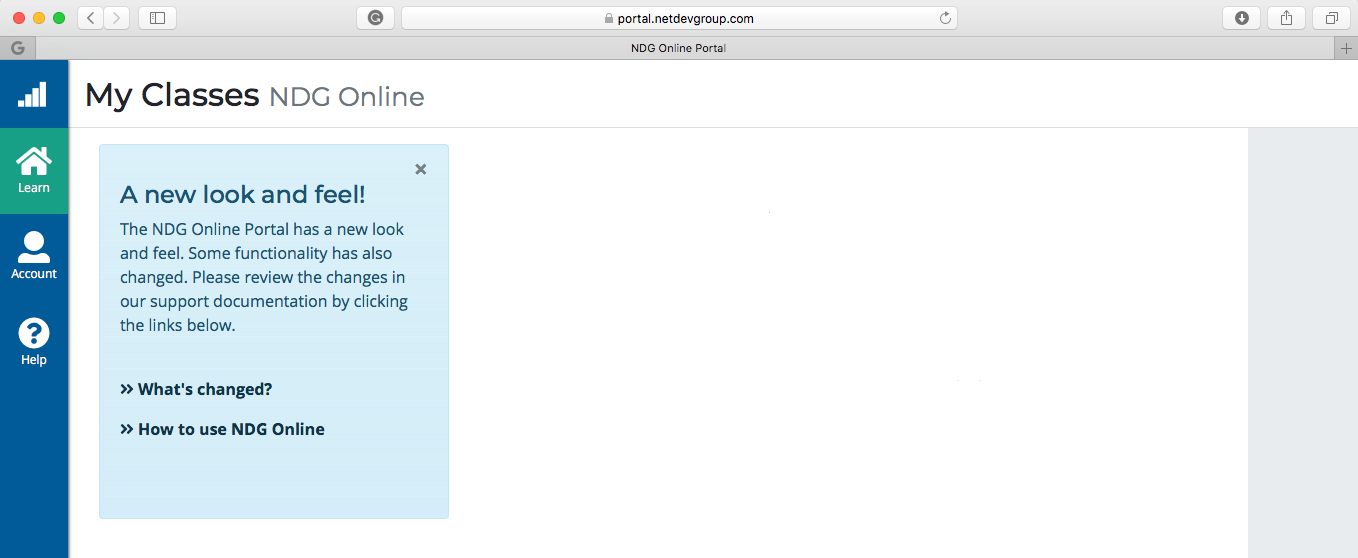 Email Verification
The next step of the enrollment process is Email verification. A verification email with a Verification Key will be sent to the email that was provided in the registration step. Without completing this step, users will be unable to continue with the lab enrollment process.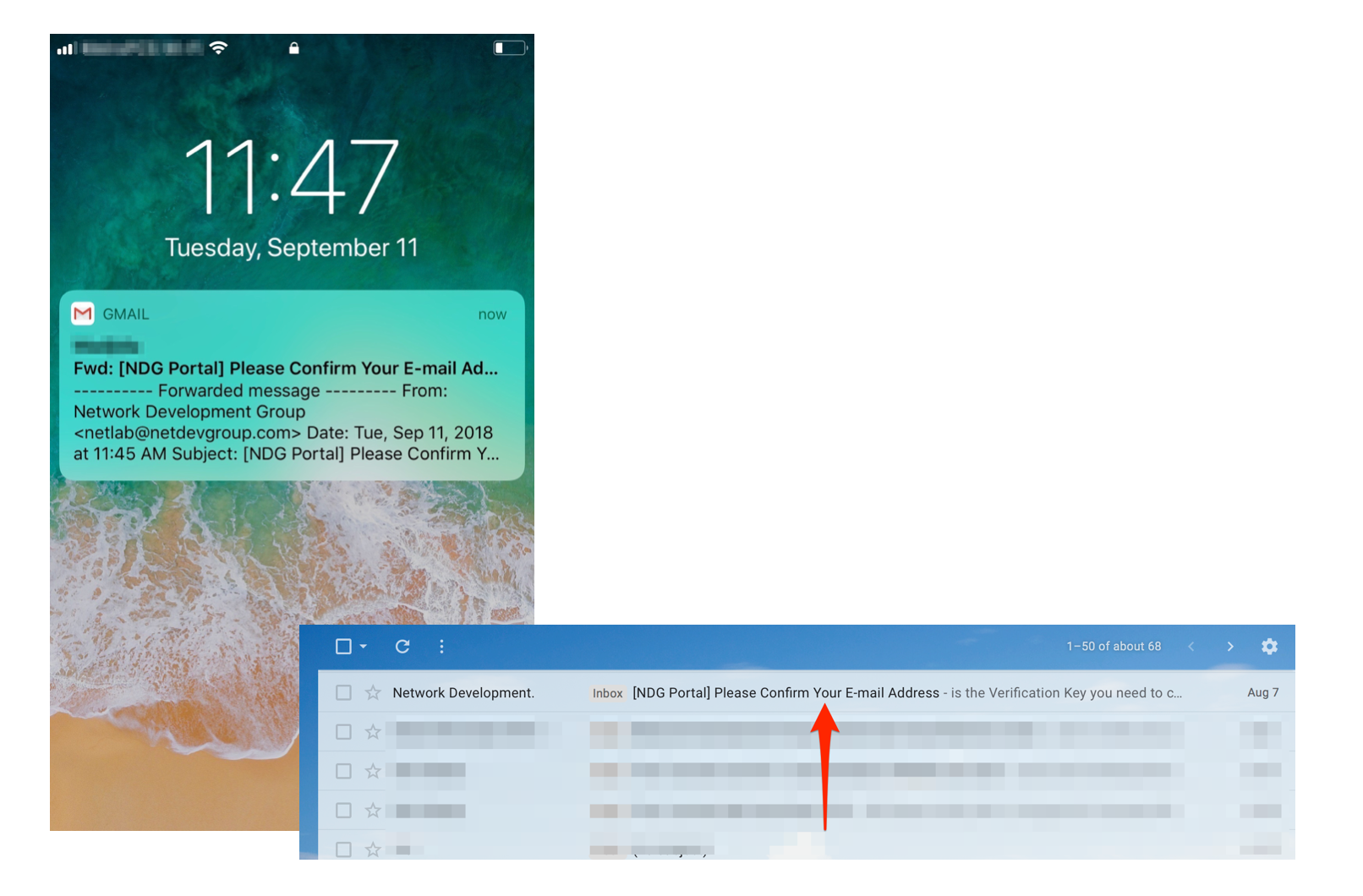 Having issues finding the verification email? Please check your email Trash or Junk folder in case it was sent there instead of your Inbox. In addition, please verify that the email provided in the registration step is accurate. If you are still experiencing issues verifying your email, feel free to contact NDG Online Support at hostedsupport@netdevgroup.com.
Type in your Verification Key and click Verify to continue.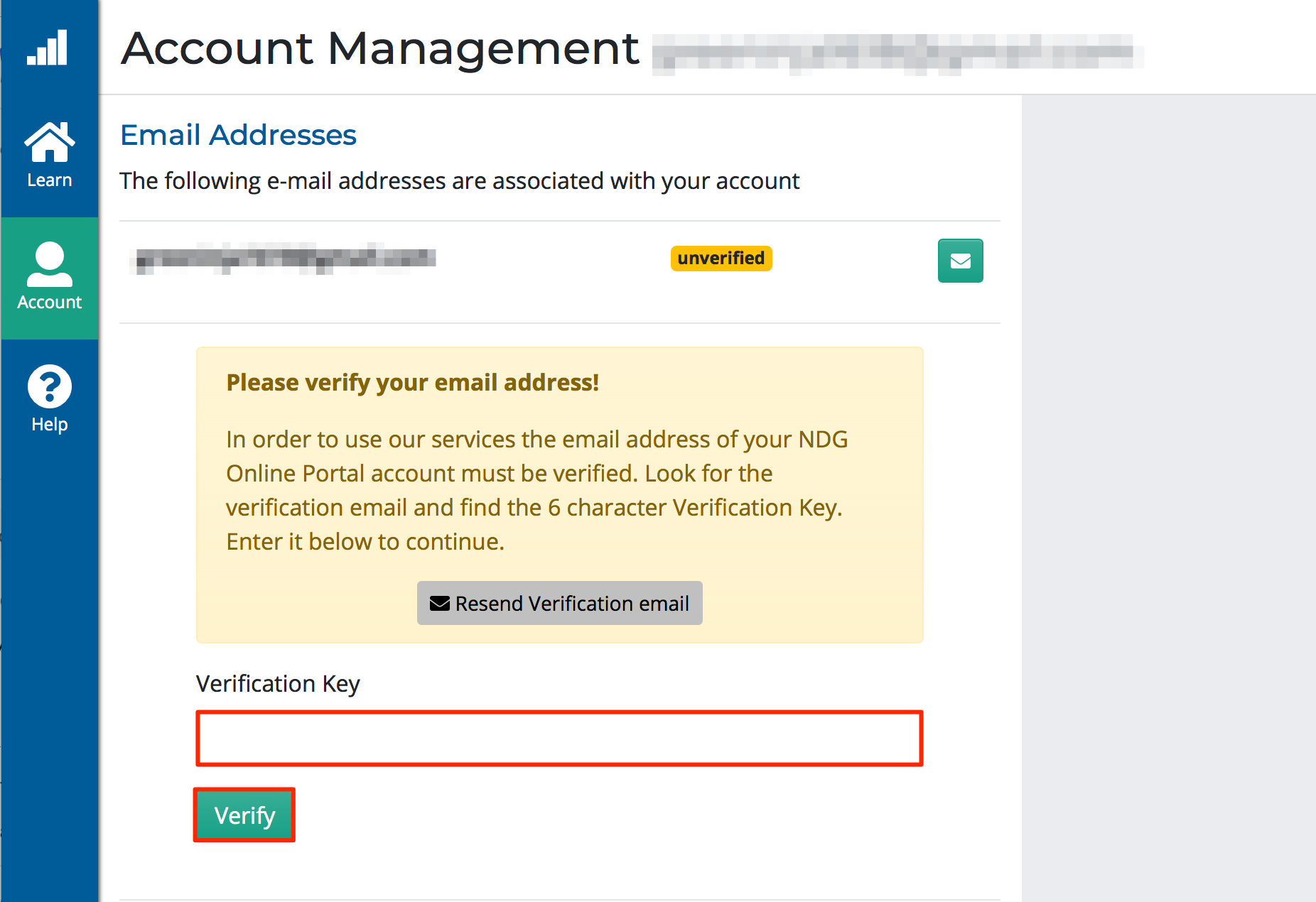 You can check to see if your email was verified successfully in the NDG Online Portal by going to the Account tab and then select Manage Email Addresses.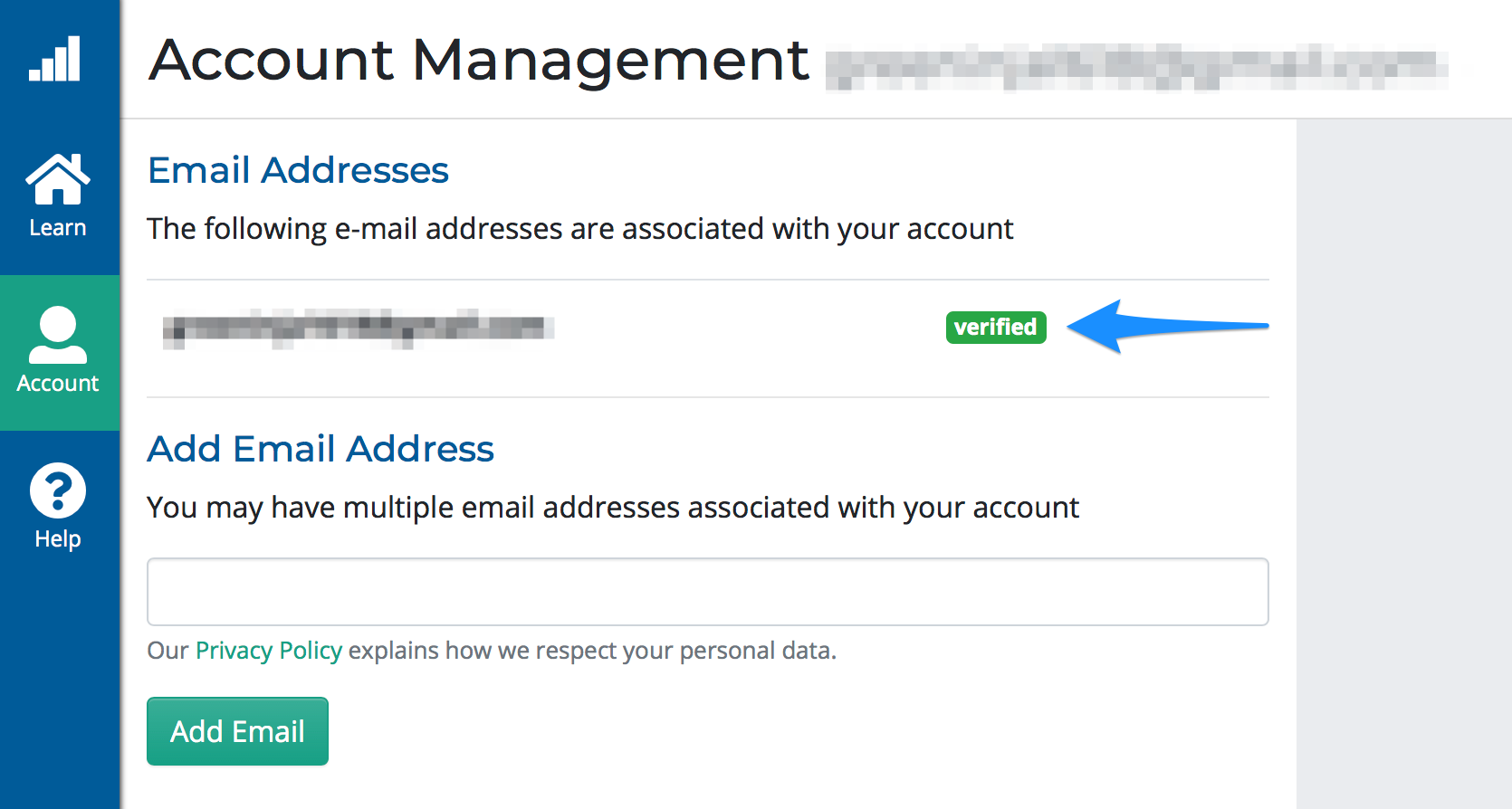 If, for any reason, you stopped the enrollment process while signing up for an NDG Portal account you will need to start the enrollment process over again using the enrollment URL provided to you by your instructor. Once you do so, you will be prompted to log into the NDG Portal rather than creating a new account. If you ever get lost or stuck in the enrollment process, revisiting the enrollment URL should start the process over where you left off, and can be done so at any time.
Purchase Labs
There are two ways lab access can be purchased or claimed: access code or direct payment through the NDG Portal. For information regarding the use of an access code, please skip ahead to that section.
Direct Purchase from the NDG Portal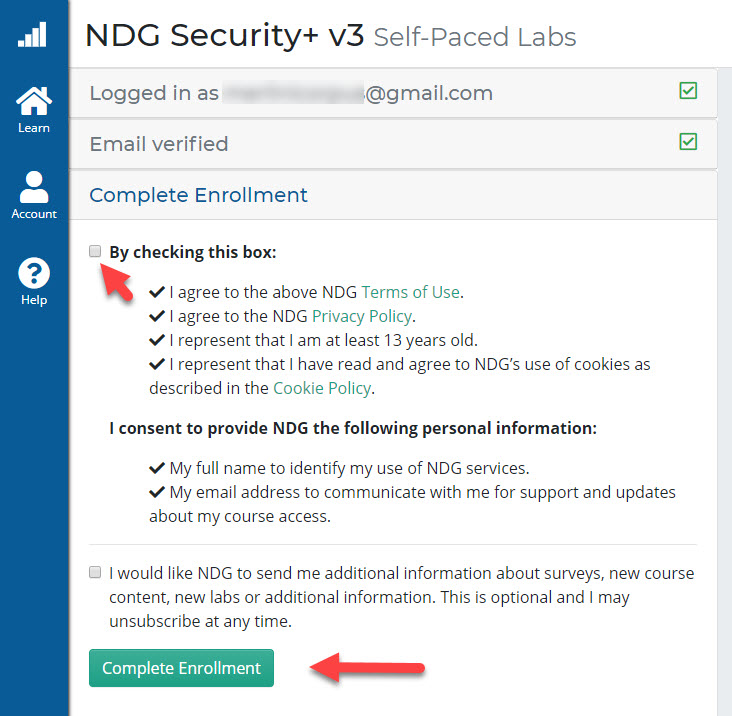 Note that some labs will only have one option for time period of access. Regardless, you will need to select an option before proceeding and the Purchase Access button will be greyed out until an option is selected.

Once you click the Purchase Access button, you will be prompted to complete your purchase within the NDG Portal.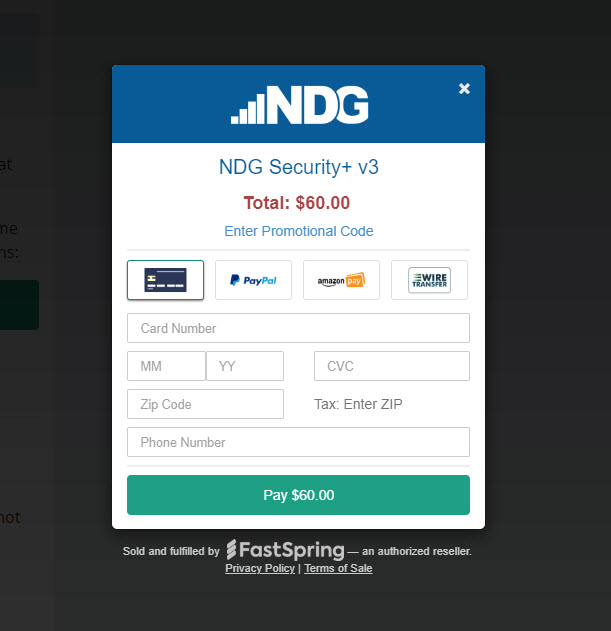 Please skip the following section regarding access codes if you are not using this process.
Purchase Using Access Codes
Some labs can be purchased via access code. This can be done via your school's bookstore or the Kivuto OnTheHub web store, depending on your instructor and how the labs are set up by your school. In this case, once you are prompted to make a purchase, there should be an additional section below that requests an access code.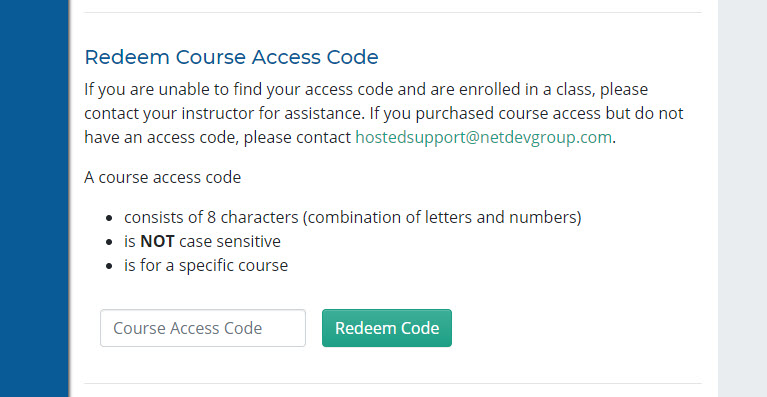 Here you can enter the access code you previously purchased.
Do NOT contact the NDG Portal support team to request access codes. If access is purchased on your behalf or through a third-party, codes will be provided by the instructor of the class or the store where they were purchased. ALL questions regarding access codes should be directed to the instructor of your class for assistance.

Accessing the Labs After Purchase
Navigate to your NDG Online Portal home where the labs can be accessed. Click on the lab class card to open the lab environment.

Getting Help
Need help with the NDG Online Portal or labs? Click on the Help tab in the menu on the right and leave us a message. In the Help window, fill out the form and click Send to contact NDG Support.