What are access codes?
When learners enroll in labs or courses requiring payment through the NDG Portal, they are prompted to either purchase access directly or provide an access code. Access codes are used when access is sold and purchased through a third-party (such as a bookstore) or if access has otherwise been purchased on a learner's behalf. Students purchasing access directly will not use access codes.
How are access codes distributed?
After the order is submitted and approved, a list of access codes will be emailed to the address provided during the ordering process, there are no physical components to ship. NDG may require that payment be completed before access codes are generated.
Are there any materials or other instructions provided to give learners with access codes?
NDG does not provide any instructions or enrollment URLs (required to use access codes) with bulk access code purchases. This is intentional, as the instructor of the class should be providing the enrollment URLs and any information on how to use our services as specific to their class. The instructor of the class may ask that these instructions be provided with access code purchase, but otherwise no materials other than the code itself should be provided to learners.
Who may purchase access codes via Purchase Order?
Only members of a degree-granting accredited academic institution, or those ordering directly on their behalf (such as a bookstore), may submit orders using a Purchase Order as a payment option unless other arrangements have been made in advance with the NDG Support team. Individuals cannot use the purchase order process, and all orders will need to be a quantity greater than 2.
How do I submit a purchase order?
Select the NDG Online content that you wish to purchase access codes from the course catalog here:
https://www.netdevgroup.com/online/courses/
From the lab page, click the Purchase button, then Other/Bulk Orders, and then Purchase Orders.

You will then be presented with the ordering page.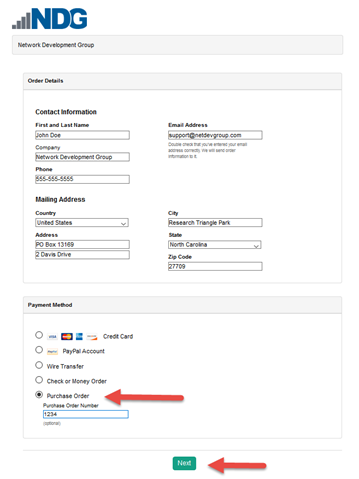 Here you will insert your purchase order number (if you have one), and then submit the order as you normally would. Please note that even when using a purchase order, you must go to the ordering page and submit an order in a normal fashion. Note that not all payment options are available in all regions, and most orders are paid via card.
Sending a copy of a purchase order to the NDG Support Team or FastSpring is neither required nor sufficient to submit an order when using a PO.

Are there any discounts for bulk purchases?
Unfortunately NDG is unable to offer any discounts for bulk purchases or purchases for resale.
How are payments processed?
All payments for the NDG Online are handled by our payment processor FastSpring. Purchasers having difficulty with payment may wish to contact FastSpring directly by going to their contact page here:
http://www.fastspring.com/contact-us
How to I obtain a W-9?
FastSpring is the vendor of record for the sale for all purchases, and NDG does not sell access codes directly. You can find a copy of the completed W-9 on FastSpring's Request for Taxpayer (W-9) form, which can be found here:
http://www.fastspring.com/w9.pdf
How to I set NDG as a new vendor?
Since FastSpring is the vendor of record for the sale for all purchases, it is likely that FastSpring will need to be set up as the vendor and not NDG. You can contact FastSpring for this information here:
https://fastspring.com/consumer-support/topics/checkout-and-purchasing/
How do I do a bank or wire transfer?
FastSpring does not allow bank transfers as a method of purchase in most cases. Payment options vary by region, but most orders are accepted via card, PayPal, or check.
VAT information for EU customers?
FastSpring is a United States-based seller of digital goods. EU laws require FastSpring to charge VAT Tax (sales tax) on purchases of electronically delivered products for buyers based in the European Union. FastSpring is required to charge VAT Tax at the VAT rate of the buyer's country. For more information, please refer to:
http://www.fastspring.com/vat
When do we receive the access codes?
Access codes are normally distributed upon confirmation of payment completion. If paying via purchase order, codes may be distributed before payment completion at the discretion of the NDG Support team.